How to Extract Pages from PDF to Create a New PDF File?
How to extract one or several pages of a PDF file? PDF is a document format often used in our office. Due to the particularity of PDF files, under normal circumstances, we cannot directly modify or edit PDF files. There are many documents in PDF format ranging from dozens of pages to hundreds of pages, and usually, the information we need is only a few of them, so how to extract a few pages of the entire document into a single PDF file? The best way to extract PDF pages is to use a specific PDF tool.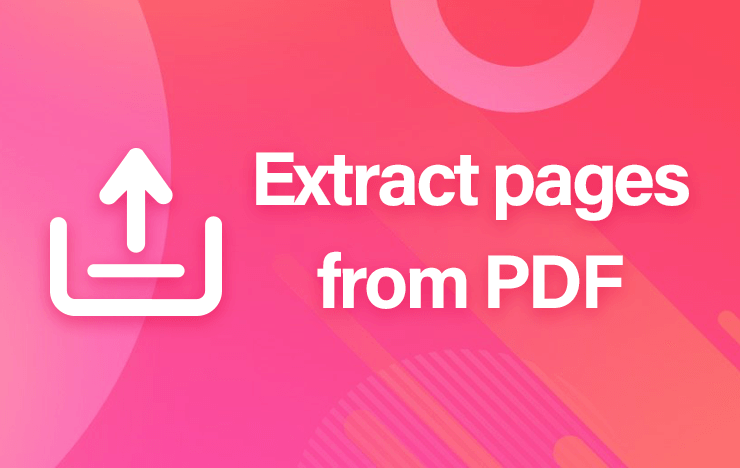 1Why do we need to extract pages from the PDF?
We maybe need to extract data or pages from PDF documents shared on different sources. Sometimes, you will download a PDF file that contains a lot of extra information that you don't need. Select only those pages you need from the PDF file, so you can avoid keeping optional unnecessary data, and only include the important text in the PDF document.
In addition, people may have restrictions when downloading some PDF files. This is a very common thing, because the PDF file may be encrypted. Due to the security settings of PDF, we are not allowed to extract pages. Therefore, to solve this problem, you must enable page extraction in the PDF by unlocking.
2Three methods to extract pages from PDF
Method 1: Adobe Acrobat DC
Adobe Acrobat Pro DC is a professional PDF software that requires payment. Open Adobe Acrobat DC and go to the "Tools" menu. In the case of displaying page thumbnails, the fastest way to extract a page is to simply select the relevant page and drag it to the desktop to create a new PDF.
Single page extraction: Drag the page thumbnail to the desktop to create a new PDF.
Multi-page extraction: Use the Shift key to select a continuous range of pages. Use the command/control keys to select a discontinuous page range. Drag the selected content to the desktop to create a PDF.
Method 2: Extract pages from PDF online with PDF2everything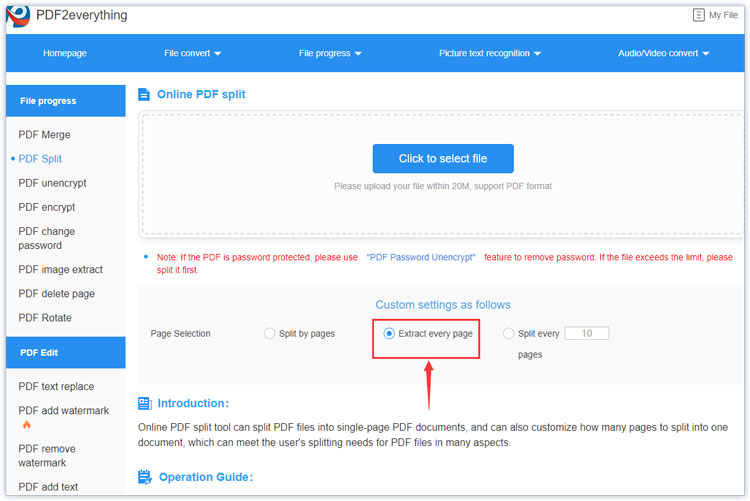 PDF2everything can split PDF files into single-page PDF documents online, and can also customize the number of pages to be split into one document. You only need to click or drag to upload the file, set the output parameters, and then click "Start", it will automatically upload the converted file, wait a moment to download the converted file.
Files will be automatically deleted after 24 hours, no one can read or download, 100% protect your privacy. You can manually delete the converted files in "My Files".
Method 3: Extract pages from PDF on Windows with ToolRocket PDF Converter
Among the many PDF extraction page tools available, ToolRocket PDF Converter is one of the best suitable choices. It is very professional and easy to use. It also supports unlocking PDF files to extract PDF pages. The tool not only allows you to extract pages from the document. You can also reorganize multi-page PDF documents. The mutual conversion between files can also be done easily.
3How to use ToolRocket PDF Converter to extract pages?
Step 1: First open the installed ToolRocket PDF Converter, and then click on the function bar of the software "PDF Edit" and then select "PDF Page Extract" under its function options.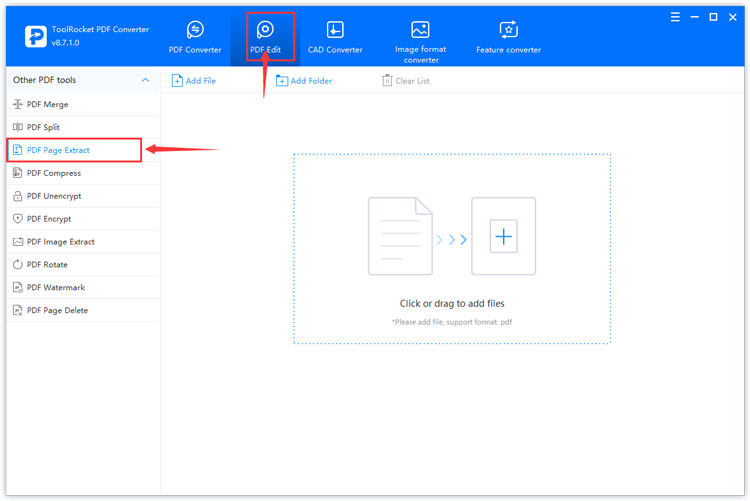 Step 2: Click "Add File" under the software and add the PDF file. After adding, you can set the page range and so on.
Step 3: After setting the output directory, click "Start" after setting and wait for a while to complete the extraction.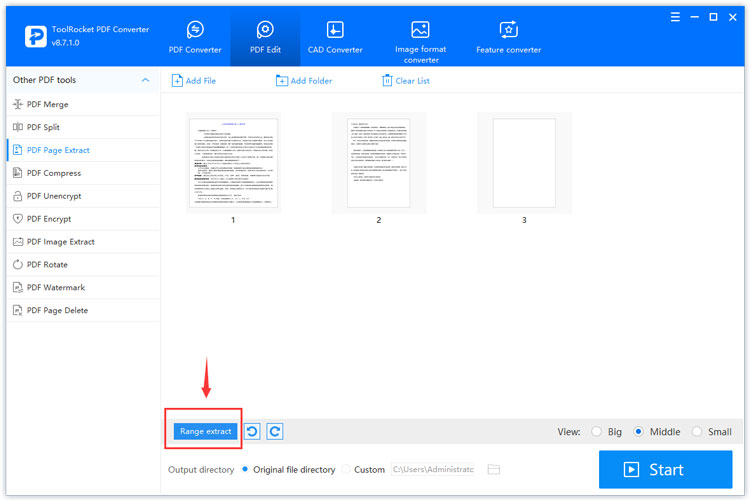 ToolRocket PDF Converter can quickly and easily extract one or more pages from a PDF file and save it as a new document, simple and efficient; one-key operation, fast and convenient. This free PDF converter also provides you with text processing and recognition, speech recognition, image conversion and other functions. With the built-in stable software core, the success rate of file conversion will be higher, and the layout of your files can be displayed perfectly.