How to Delete Pages from PDF Files for Free?
PDF is an excellent way to save documents in their original format. In daily work, we often use PDF files. When we open a PDF file, we may find that there are a few blank pages in it. Different from Word files and other text files, we can directly delete pages that we don't need. If you delete content directly from PDF files, you will leave blank pages in the document, so delete the unnecessary content will cause the page to be deleted directly. At this time, how should we delete pages from the PDF?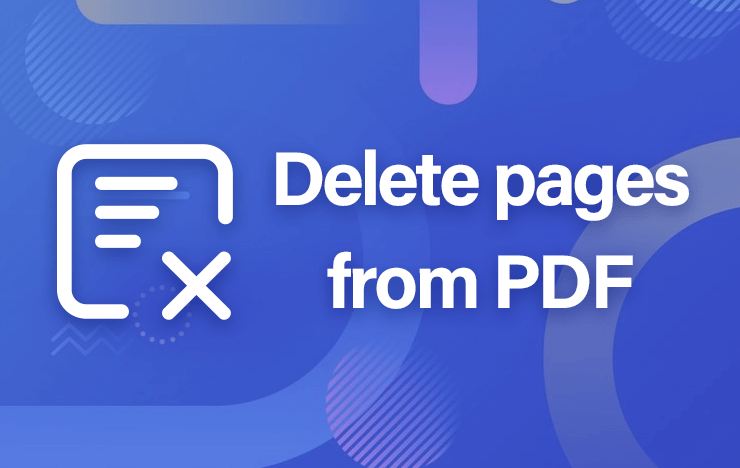 1Why can't I delete pages from PDF?
Because Adobe Acrobat Reader does not have any editing tools, even simple page deletion operations cannot be achieved. If you want to quickly and easily delete pages from a PDF file without using Acrobat, there are several methods. With the PDF converter or editor, you can do it in a few simple steps.
First of all, the most common method people use is to convert the PDF file to Word, Excel or other editable format files to delete unnecessary pages, and then save it as a PDF file. However, there is another way to delete pages in a PDF document without performing the conversion process. As PDF becomes more and more common, there are more and more PDF converters on the market, many of which are free. Deleting pages from PDF is a convenient thing.
2How to delete pages in a PDF file on Windows?
Step 1: Download and open Tool Rocket PDF Converter, you will find that the tool is divided into multiple areas such as the navigation bar and function bar. First, select "PDF Edit" in the navigation bar.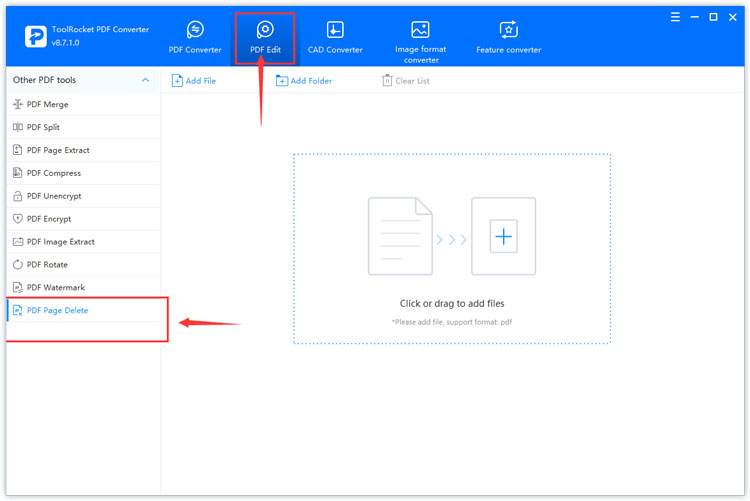 Step 2: Then select "PDF Page Delete". At this time, you need to add the PDF document that needs to be processed to the page. There are many ways to add. You can click the Add File/Add Folder button to select the file, or you can directly import the PDF file by dragging.
Step 3: Then the content of the PDF will be displayed to the specified location in the form of thumbnails. You can adjust the display of thumbnails by viewing the large/medium/small on the right. Then move the mouse to the page to be deleted, click the delete button and confirm.
Step 4: After the page to be deleted is set, click the start conversion button in the lower right corner. After the page is deleted, the document will be saved to the location of the output directory. If you want to output the file to the specified location, you can also adjust it through the browse button.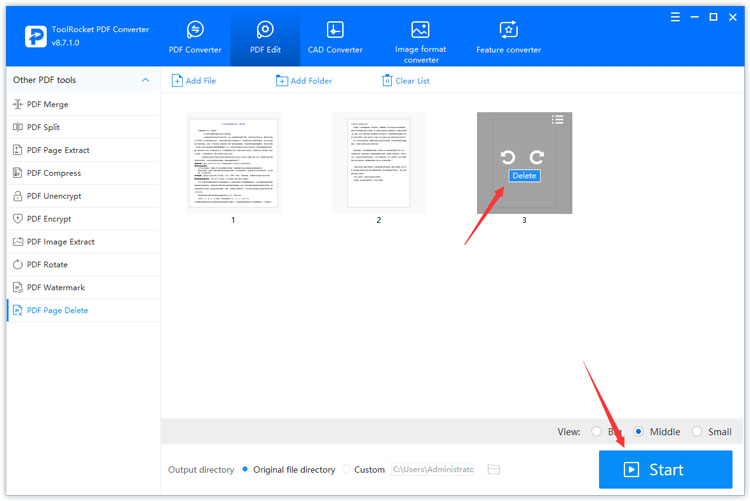 3How to delete pages in a PDF file online?
Click or drag on PDF2everything to upload your PDF file, customize the settings to delete odd pages, even pages or any pages. After completing the delete operation, click Convert to get a brand new PDF file. This online PDF converter can also support you to edit PDF files: Drawing, Freeform Highlight, Text Highlight, Eraser, etc.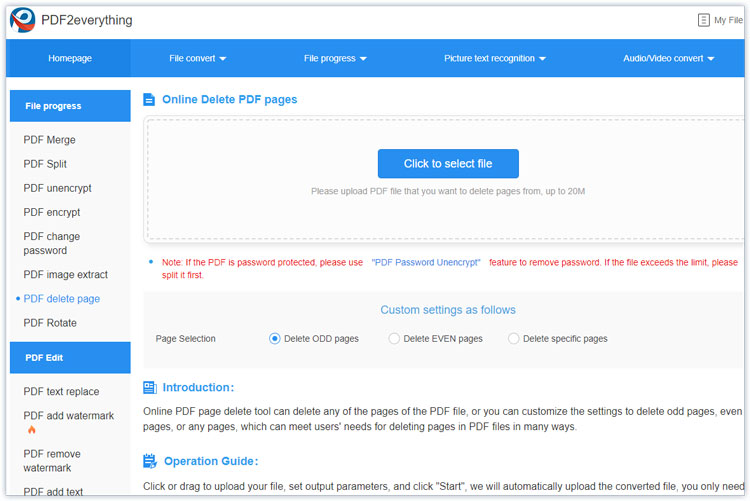 4Why choose ToolRocket PDF Converter to delete PDF pages?
In addition to supporting the "PDF Page Delete" function, Tool Rocket PDF Converter also allows you to edit PDF files, including PDF Merge, PDF Split, PDF Mage Extract, PDF Compress, PDF Unencrypt, PDF Encrypt, PDF Image Extraction, PDF Rotate, PDF Watermark.
It also includes the conversion of image formats: Image to JPG, Image to PNG, Image to BMP, Image to ICON, Word to long picture, PPT to long picture, PDF to long picture, and Image Compress.
ToolRocket PDF Converter is very intuitive and easy to use. To provide you with a better user experience, it can not only easily convert common Office files, but also edit PDF efficiently.