Convert TIFF/TIF Images to PDF Files in Different Ways
TIFF images can be opened in many programs. You can open TIFF images using Microsoft Photos in Windows. If you are a macOS user, you can use the Apple Preview to open TIFF images. PDF files are universal in both Windows and Mac OS operating systems. The PDF file format has complete functions including text, images, hyperlinks, rich media, and attachments. More and more e-books, product descriptions and online materials are beginning to use PDF files. And ToolRocket PDF Converter supports the conversion between these two formats, and can easily convert multiple TIFF images into a single PDF document to share with others.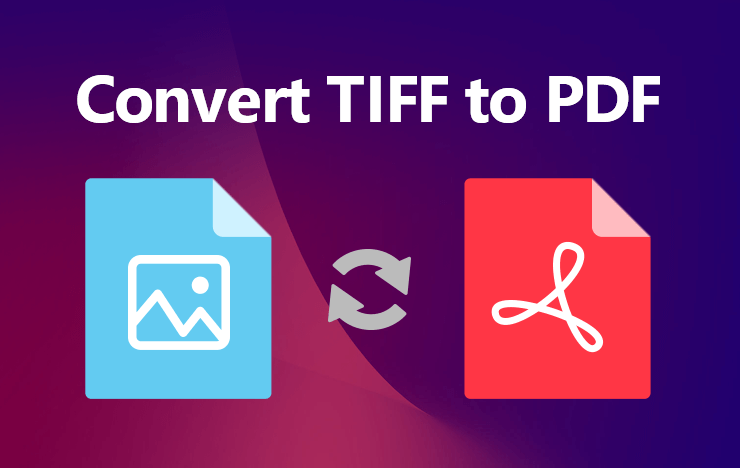 1Why convert TIFF to PDF?
The quality of TIFF files is very high, but at the same time, the files are also very large, they are mainly used for commercial digital photography. Most users want to convert TIFF files to PDF in order to share the file with others via email. By converting TIFF files to PDF, you can ensure that the recipient can read the PDF file while maintaining the integrity of the file. For ordinary readers, e-books made with PDF have the texture and reading effect of paper books. Therefore, for any use case other than printing, you can use TIFF to PDF converter to help you quickly convert these huge images into PDF format files.
2Convert TIFF images to PDF files online
There are many websites that support the online tiff to pdf conversion, including:
1. online2pdf.com
2. tiff2pdf.com
3. smallpdf.com
These three websites support users to convert multiple TIFF images to PDF. You can click the thumbnail to download the PDF files of each image individually or click the "Combine" button to merge them all into one PDF document. You also can control the image resolution, quality and file size according to the options on the website.
3Convert TIFF images to PDF files on Windows
1. Adobe Acrobat Pro DC
Firstly, you need to download the paid version of Adobe Acrobat Pro DC. The Adobe Acrobat Reader application that most people have only can open files, but cannot export files. You must have the paid version of Adobe Acrobat to convert PDF to TIFF images. Acrobat PDF converter can quickly convert PNG, GIF, BMP, TIFF and JPG to PDF. If you only need to convert one file, you can download a free trial version of Adobe Acrobat Pro.
2. PDFelement
The software can run on Windows, Mac, iPhone and Android phones. PDFelement is a multifunctional PDF editor that allows you to read, edit and manage PDF files stored on the device. This includes converting PDF files to TIFF images. At the same time, it is also paid software.
3. ToolRocket PDF Converter
Step 1: Firstly, you need to download and open the ToolRocket PDF Converter.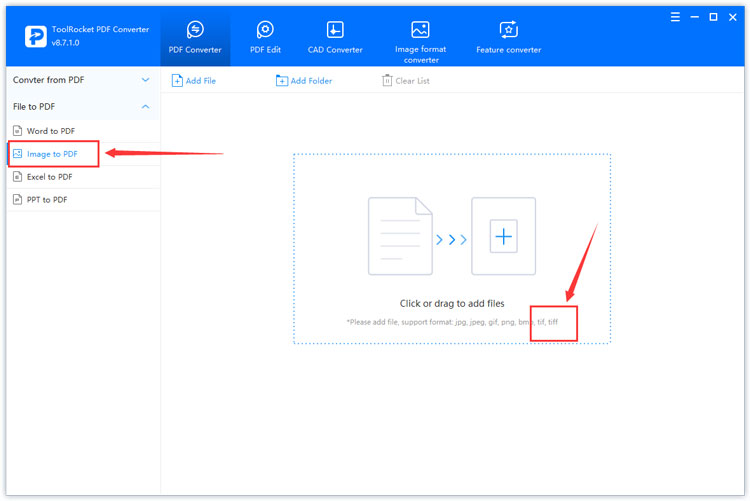 Step 2: Then select the "PDF Converter" function at the top of the page, and then select "Image to PDF" on the left.
Step 3: You can drag and drop or click "Add" to select the TIFF/TIFF image to be converted from your computer.
Step 4: If there are multiple TIFF images, you need to choose whether to convert them into a PDF file and whether to compress the images and then click "Start" to start the conversion. When the Status progress is 100%, it means success. You can open the converted PDF file.
If you want to convert PDF files to TIFF images on Windows, you can refer to this article: Best PDF to TIF/TIFF Converter on Windows.
4FAQ about converting TIFF to PDF
1. Is TIF same as TIFF?
TIF and TIFF formats are exactly the same, only the extension is different, one extension is .tiff and the other is .tif. There is no real difference between TIF and TIFF. Even if you rename one to another, you can still get the same image rendering.
2. How to Open a TIFF File?
Right-click the file in TIFF format, select "Open With" in the pop-up list, and then select "Windows Photo Viewer". In the pop-up window of "Windows Photo Viewer", you can see the TIFF image. Or if you want to open a single TIFF image on your computer, go to the "File" menu in Photoshop, select "Open", and then find the TIFF image on the computer you want to open.
3. How do I reduce the size of a TIFF file?
Have you ever had the problem that the TIFF file is too large to be sent to others by email? If the recipient only needs to view the content, you can try to convert TIFF into a PDF file or other format by ToolRocket PDF Converter before sending it to others.