How to Convert PDF to PowerPoint in 5 Minutes?
Several tools are available on the internet from where you can conveniently convert your PDF files to PPT. Yet, converting PDF to PowerPoint file is considered quite rare. However, over time, technological advancements are opening doors to several ways through which you can get everything done without any effort. In the same manner, if you are struggling to convert your PDF files to PowerPoint, something is fascinating for you in this article.
Excited to know more? Read till the end, and you will learn everything about converting pdf files to PowerPoint in no time.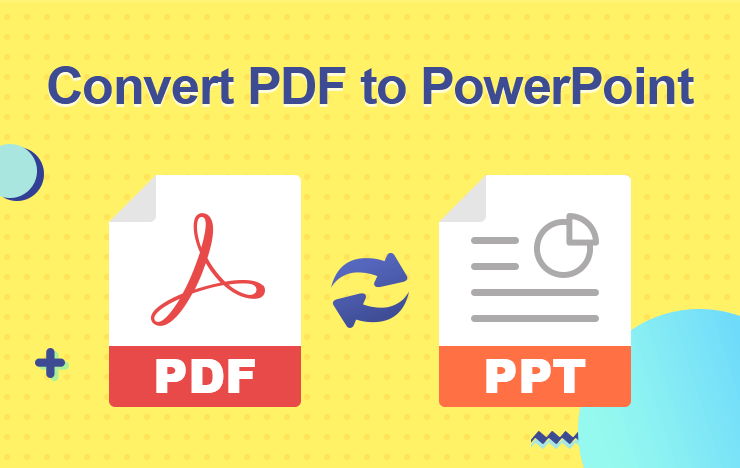 1Convert PDF to PowerPoint with ToolRocket PDF Converter
Looking for how to convert PDF to PowerPoint? Here is an amazing software that lets you convert all of your PDF files to PowerPoint for free. ToolRocket PDF Converter comes with many tools that provide you with a platform to change the formats of different files easily.
The best part is that ToolRocket PDF Converter executes versatile conversions on Windows. Indeed, ToolRocket PDF Converter is a powerful tool that allows you to compress and combine your pdf files without compromising on their quality. Even if you have an important meeting or any academic presentation that requires you to present using your PowerPoint files, ToolRocket PDF Converter can save you from the final minute chaos.
Get your PPT Ready with a Perfect Layout
This is where ToolRocket PDF Converter stands among the crowd as ToolRocket PDF Converter develops creative and appealing PPT layouts for you to ace your presentation. By retaining the image and text quality, you can achieve your desired PPT file within a click.
Easy Steps to Convert PDF Files to PowerPoint Using ToolRocket PDF Converter
ToolRocket PDF Converter has made it extremely convenient for users to convert their important pdf files to PowerPoint for free when the need arises(repetition). Besides, with this tool, all you need to do is follow some basic steps to produce the desired outcome.
Step 1: Download ToolRocket PDF Converter.
Before we convert our pdf files to PowerPoint, we have to start with downloading the software. Wondering if this tool will take excessive memory for downloading? Well, if you are stressed concerning the storage part, no need to worry anymore. ToolRocket PDF Convert hardly takes 132 MBs of data, meaning that your pdf files can be converted to PowerPoint with an excellent tool that would not stuff your computer.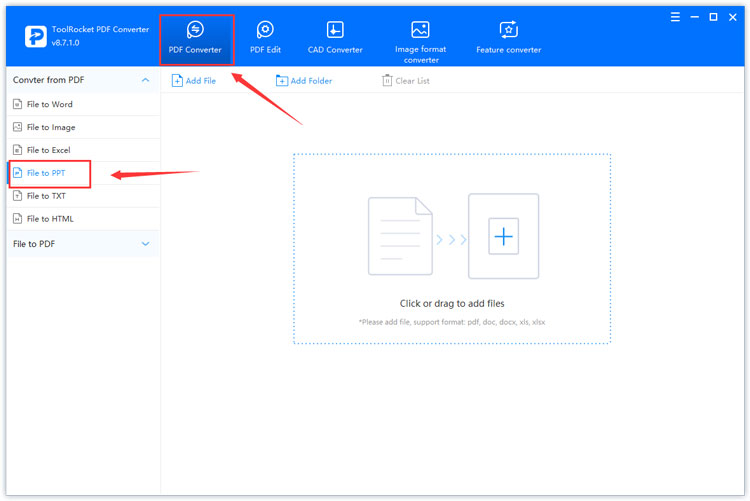 Step 2: Open ToolRocket PDF Converter
Once you are done with downloading, the next step is to open the tool. Here you'll see several tabs. As your purpose is to convert PDF file to PowerPoint, click on File to PPT on the left bar to proceed further.
Step 3: Drag your PDF Files
After clicking on File to PPT, it will ask you to insert the targeted files you want to convert into PPT. Ensure that these files are of PDF format only otherwise it would not convert successfully with the selected option.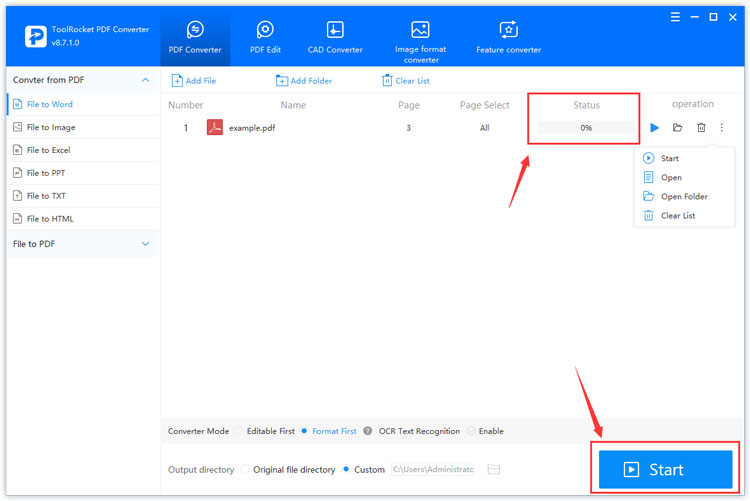 Step 4: Format Your File
This is an optional step that allows you to edit your pdf document before the final conversion. If you want to preview the targeted file, you can open it in editable mode.
Step 5: Click on Start
On the bottom right corner, you will see a blue START button. By clicking this, your PDF files will start getting converted to PowerPoint automatically. It usually takes a few minutes to complete the conversion process. However, it mainly depends on your file size. Once, the conversion is processed successfully, you can open the file to view it.
2Convert PDF to PowerPoint with PDF2everything
Thinking of any online method of converting your pdf files to PowerPoint? No need to stress anymore, because we have another best option for you to convert PDF files to PowerPoint Online. Luckily, this online conversion is one of the widely used tools by professionals. It provides a variety of options that lets you retain the quality and formatting of your original file. PDF2everything also allows users to select a prior edit option if they want to preview and make some changes to their document.
Simple Steps to Convert PDF Files to PowerPoint Online Using PDF2everything
Following are some of the essential steps required to convert PDF files to PowerPoint online using PDF2everything.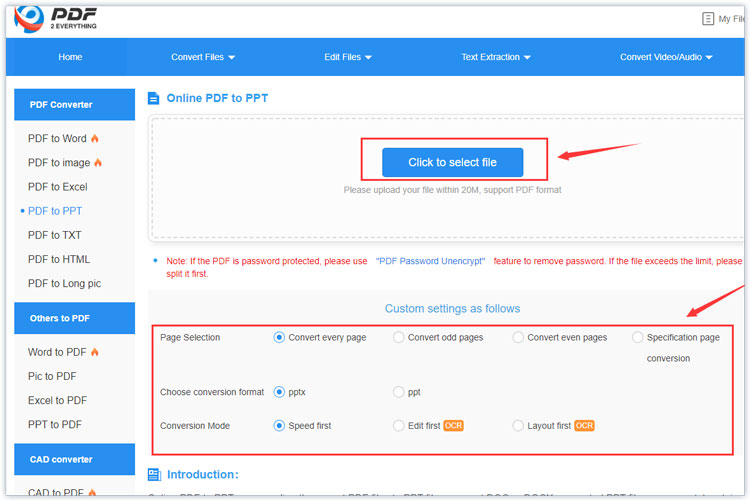 Step 1: Click on Add files or drag your files to the website.
Step 2: Click on Convert.
Step 3: Wait for the conversion to get done.
Step 4: Download the PPT file.
3Convert PDF to PowerPoint on your phone
Are you a Smartphone user? Well, you must have thought how converting PDF to PowerPoint would be impossible for you to get done without having a personal computer. Not anymore. This PDF Converter on Google Play Store and iPhone grants its users to convert their PDF files to PowerPoint on the phone using Android or iOS. This high-quality file converter allows Android and iPhone users to convert their important files without the hassle of downloading any external software.
Easy Steps to Convert PDF Files to PowerPoint Online Using PDF Converter App
When converting your pdf files to PowerPoint using this PDF Converter app, all you have to do is follow several quick and easy steps and you're all done.
Step 1: Download this app on iPhone using Apple Store. Android users can install this PDF converter app using Google Play Store. After the installation is done, click on convert from PDF.
Step 2: Choose the files that you want to convert into PPT. It will take you to your file section to select the targeted PDF file to be converted into PPT.
Step 3: Click on Convert File. After this, the conversion process shall be executed, which might take only a couple of minutes. Now, you can easily save your files and can access them whenever you want.
4Convert PDF to PowerPoint with Adobe Acrobat
Looking for the fastest method to convert your PDF file into PowerPoint? Adobe Acrobat can help you convert your pdf into PPT easily without taking much of your time and energy. This is one of the easiest yet efficient ways to convert pdf files into PPT online. You can easily convert your Pdf files to PowerPoint by following the steps mentioned below.
Step 1: Open Adobe Acrobat.
Step 2: Click on Convert PDF to PowerPoint. It will ask you to upload your files.
Step 3: Upload the pdf files and click on Convert. After uploading, you will be required to login into your Adobe account to save your PPT file into the cloud or share it with others.
Step 3: Download the converted PPT file into your computer.
5The Bottom Line
To convert your pdf files into PowerPoint, the above-mentioned software and tool are among the best conversion tools used worldwide. Make sure to try them out and get the best PPT files without investing much of your time and money.