The Easiest Way to Convert PDF to PNG without Losing Quality
In daily work or study, sometimes it is necessary to convert a PDF file into one of several image formats, such as PNG, and sometimes you need to use some pictures in the PDF file, but don't know how to extract them. ToolRocket PDF Converter is the best solution for this type of conversion, users can quickly create PNG images from PDF files. We not only pursue fast and simple document conversion but also require high-quality preservation of converted documents. Converting PDF to PNG image is a very simple process.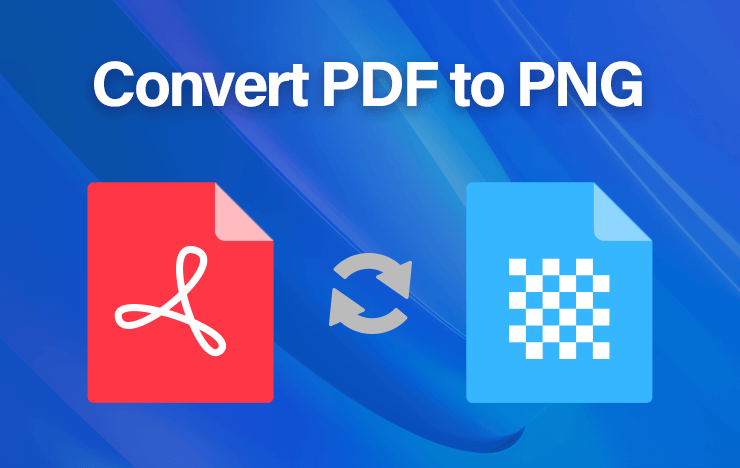 1 What's the difference between PDF and PNG?
PNG files retain more image detail and information. The main attributes of a PNG image are lossless image quality and larger file size. The design purpose of PNG is to try to replace the GIF and TIFF file formats while adding some features that the GIF file format does not have. PDF is the industry standard for document sharing, as it creates a replica of any file you want to duplicate, including images.
PDF is customizable, allowing you to export images and optimize them for printing, sharing, and editing. PNG images are ideal for web graphics, especially logos, illustrations, and graphs. PDF images are ideal for printing, especially for graphic design, posters, and flyers. Image formats such as JPG / JPEG, PNG, and BMP can be converted to each other at high resolution. You can check pictures on various devices with one click. Most PDF Converters support conversion between PDF and PNG.
2How to convert PDF to PNG image?
There are 3 ways to convert PDF to PNG:
1. Convert PDF to PNG on Windows
Step 1: Download and open the ToolRocket PDF Converter. You can see the default function of the PDF converter in the function bar on the left side of the homepage;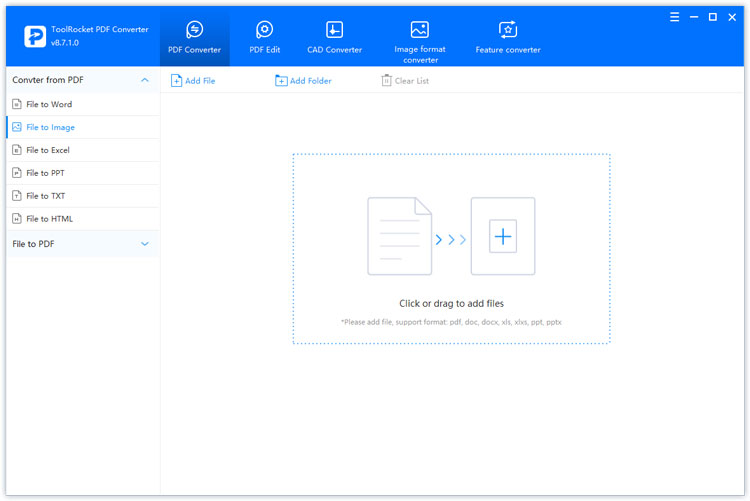 Step 2: Select PDF to convert to other files, click the "File to Image" button;
Step 3: Click the "Add File" button to add the prepared PDF file. There are three ways to add files, drag and drop to add, click on blank to add, and click to add files to add;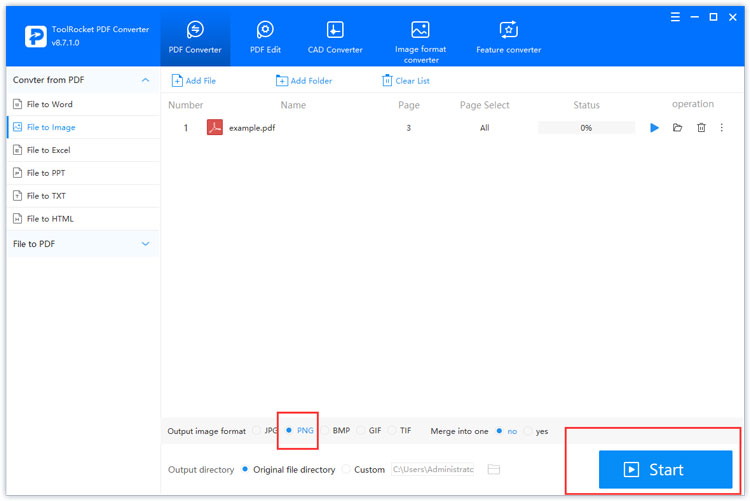 Step 4: Open the added file and enter the conversion page of the software, set the output image format to PNG, and click the "Start" button after the setting is complete;
Step 5: In the file conversion status, you can see that its status is 100%, which means the file conversion is complete. Click the file icon button under the open file to view the conversion effect.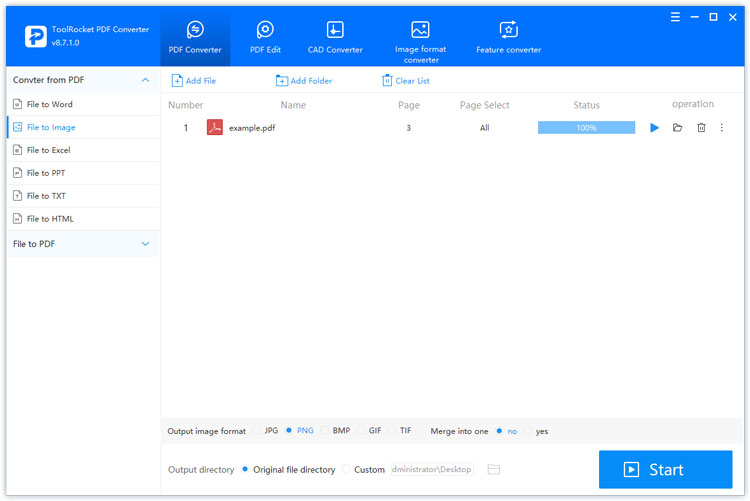 2. Convert PDF to PNG on your phone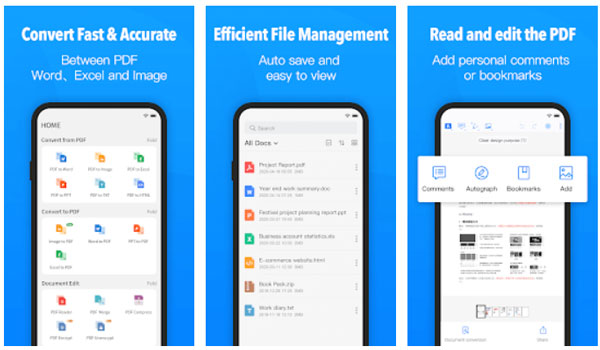 Download our PDF Converter APP on your Android phone or your iPhone. After opening the APP, select the document to be converted. With just one click, you can easily and comfortably convert PDF to PNG images.
3. Convert PDF to PNG online with PDF2everything
Click to select the file, you can also drag the file directly to add, we will automatically upload the converted file, you only need to wait a moment to download the converted file. The files will be automatically deleted after 24 hours, no one can read or download these files, and your privacy is 100% guaranteed.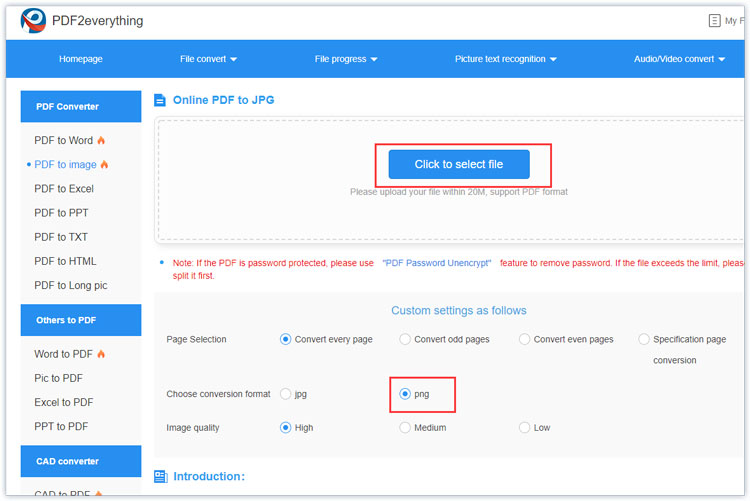 3Why choose ToolRocket PDF Converter?
ToolRocket PDF converter is a powerful PDF converter software. You can convert PDF documents to images in PNG. This conversion software can save PDF documents to PNG images, providing better image quality and size compared with other conversion software. With just one click you are able to convert PDF, PNG, and dozens of formats mutually. Convert PNG to PDF without losing quality. You can store images in the library for easy reuse in all documents.
When you have a PDF that you want to convert to a PNG image file, you can also choose multiple options according to your operating system and budget. Just upload your PDF file and choose the desired file format. In order to provide you with a better user experience, ToolRocket PDF Converter not only allows you to convert common image formats comfortably but also edit PDF efficiently. If you often use PDF files and convert them to PNG, you don't need anything other than ToolRocket PDF Converter.