Top PDF to HTML Converter on Windows
This article introduces the conversion of PDF to HTML with ToolRocket PDF Converter, you can easily get HTML files from PDF files for free. Users can convert directly a PDF file into an HTML web page. After the PDF file is successfully converted, the HTML file can be viewed on the browser. The elements of the original PDF page and the layout can be accurately retained. At the same time, converting PDF to HTML web page is one of the ways to quickly build a professional website.
Sometimes we need to convert these two formats to each other, so do you want to know the conversion method between the two? Then look down.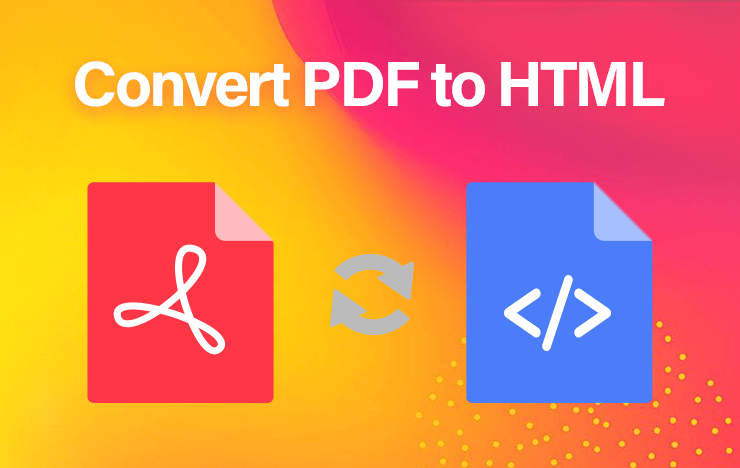 1Why do we need to convert PDF to HTML?
PDF is a file format for online storage and sharing of information. When building a website, sometimes we need to use the information in the PDF document to fill the web page. The fastest way is by converting these PDF files to HTML. Besides, you may need specific software to view PDF files, but HTML files can be opened in any type of browser, so for everyone to use the files, it is sometimes necessary to convert PDF files to HTML. PDF to HTML converter is designed to enhance the usability of PDF documents, it reduces time and effort required to read PDF documents by display document content in a more convenient way.
For example, when someone finds a very detailed PDF document and intends to make it into a web page format, it often takes a lot of time to re-develop or copy it. If it can be processed with the help of ToolRocket PDF converter, the efficiency will be greatly improved.
2What are PDF and HTML?
PDF is a file format that contains documents such as images, data, and text. This file format has nothing to do with the operating system. This is an open standard for compressed documents and vector graphics. If the PDF plug-in is installed in the browser, you can view it in the web browser. PDF files display documents in a fixed layout (very similar to images), which allows users to utilize various images, fonts, and text formats in a single document, which can be printed and easily shared from any device.
HTML is the standard for creating websites and a markup language for creating web pages. Web browsers can parse HTML files. It can use tags to embed titles, tables, text, etc., and can use URL embedding to insert images or audio. Other markup languages (such as PHP, CSS, etc.) can be used with HTML tags. The HTML source is used by a web browser and is usually invisible to users. This can be done by selecting "View Source" from the View menu of the Web browser.
3How to convert PDF to HTML?
Note: If the PDF is password protected, please use "PDF Password Unlock" to remove the encryption protection before uploading the file.
Step 1: Download ToolRocket PDF Converter and install it on your computer, enter the converter and select the "File to HTML".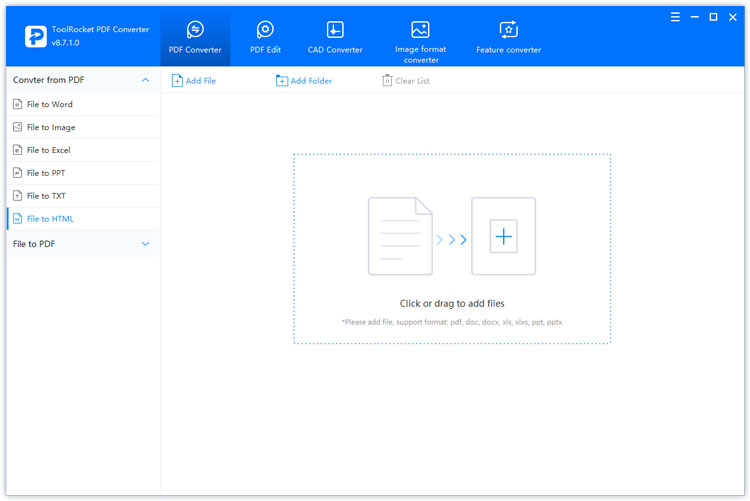 Step 2: Then click the "Add File" button to select a PDF file to add. This converter supports batch addition of multiple files.
Step 3: Next, select the option to be set on the "Output" option, you can save the converted HTML file. Please note that you can customize the save path.
Step 4: Finally, click the "Start Conversion" button, and nothing else needs to be set. Click and wait for the conversion to complete. When a dialogue box prompting "Conversion is complete" pops up, you can preview the HTML file on the web page.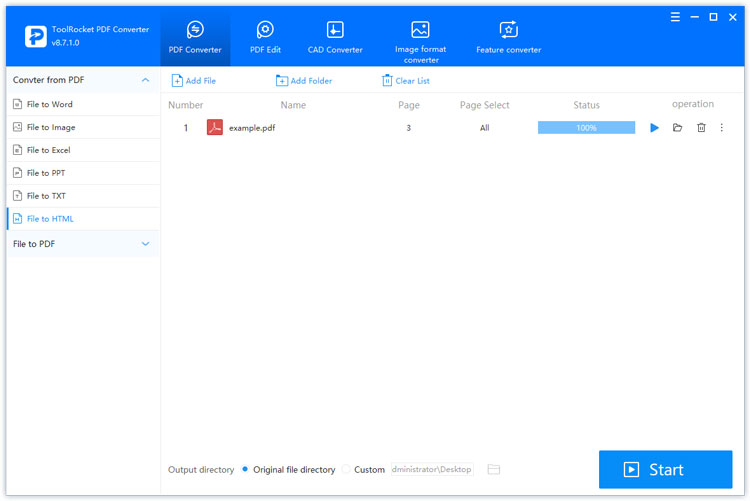 Convert PDF to HTML online with PDF2everything:
Click or drag to upload your file, set output format, and click "Start", the converted file will be automatically uploaded, just wait for a moment to download the converted file.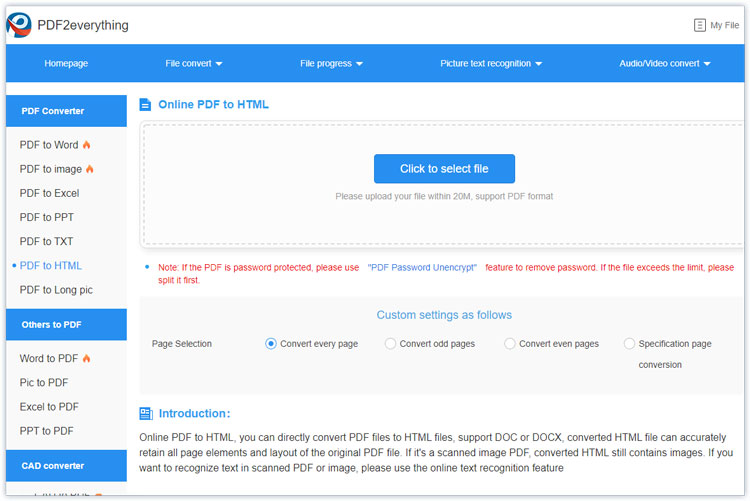 4What other formats can PDF be converted into?
ToolRocket PDF Converter provides a very complete set of functions for PDF files. Users can easily convert between PDF and Word, PPT, Excel, JPG and other formats. It supports the mutual conversion between PDF and Word, PPT, Excel and other documents in various formats. In addition, it also supports PDF merge, compression and OCR (Optical Character Recognition) service. Users can choose different methods to process different files, which are flexible, efficient, and have good conversion effects. ToolRocket PDF Converter focus on file conversion and is good at handling difficult files. The conversion speed is fast, and the conversion success rate is also high. If you have a need for pdf conversion, then ToolRocket PDF Converter will be a good choice.