How to convert PDF with tables to Excel with/without software
In daily work, Excel, Word, PowerPoint and PDF are some of the more commonly used file formats. Considering that PDF can save file content in a secure way, many people save their Excel documents as PDF. But when they want to modify the formulas, it seems not so simple. In this way, you can convert PDF to Excel.
How can I change the PDF format to Excel? Do you have the same question? In fact, it is not difficult, as long as you find a good PDF to Excel converter. In this post, you will learn different methods to convert PDF files to Excel on Windows, Mac, Android or iOS.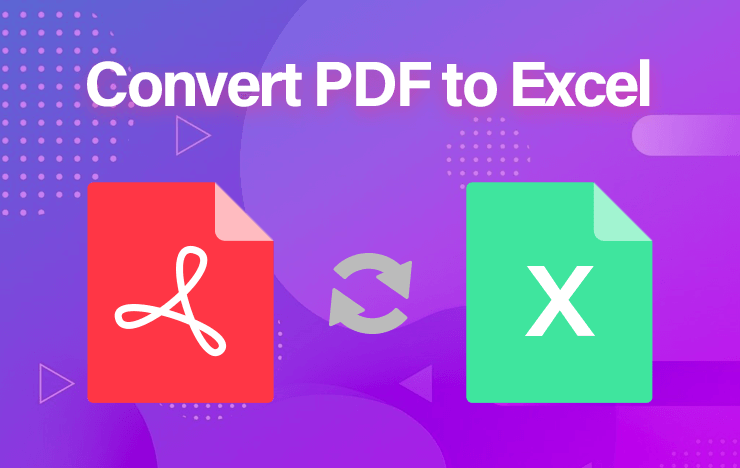 1 Convert PDF to Excel in a free PDF to Excel converter software
Step 1: Download, install and run the free ToolRocket PDF Converter on your PC. You can see that there are many file conversion functions on the left side of the software. Navigate to "Convert From PDF" > "File to Excel".
Step 2: Click the "Add File" button on the menu bar. If you have a PDF folder, you can click the button "Add Folder". This software is a batch PDF file converter, so you can import more than one files into it. Alternatively, you can drag your PDF documents directly into the file box.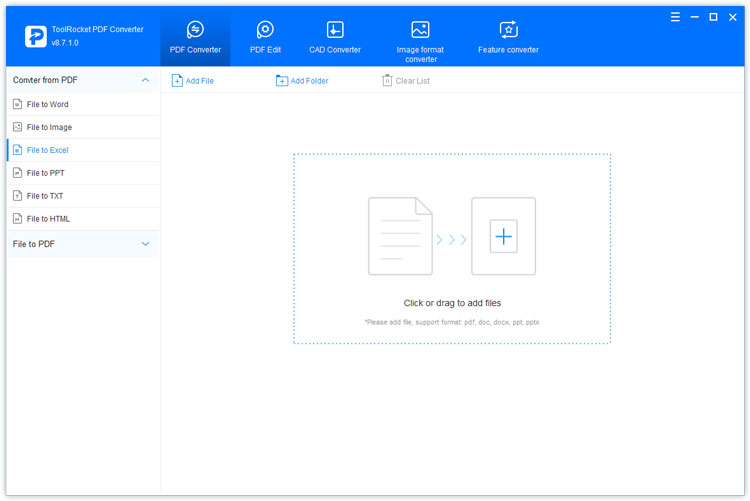 Step 3: If your PDF file is scanned in an image format, you must enable the OCR text recognition function at the bottom of the software. If the PDF is a pure file document, you can ignore this step.
Step 4: Set the output file directory. You can select a new folder or the default folder. Finally, click the "Start" button, in order to convert the imported PDF file(s) to Excel spreadsheet. When the conversion status comes to 100%, the process is already finished. Then, you can open the folder to preview the Excel document in WPS or Microsoft Excel 2007/2010/2016 or other versions.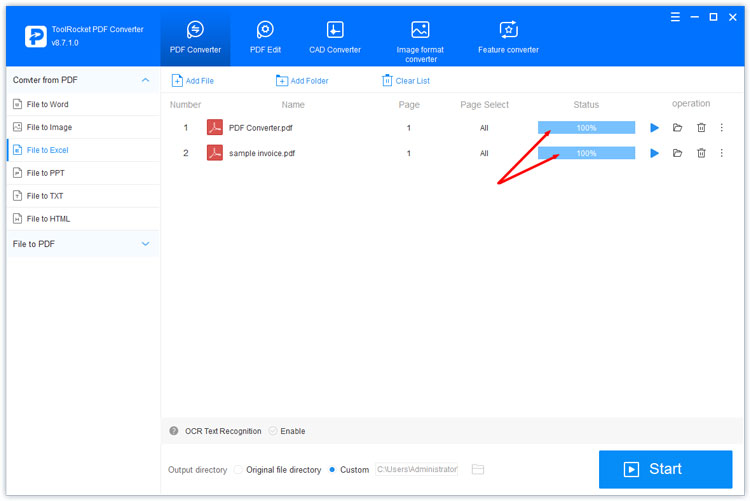 Have you followed the operation of converting PDF to Excel with ToolRocket PDF Converter? What do you think of it? If you use the software, you will understand that this is not only a simple PDF file converter but also a PDF editor. Below you can have a look at the main features of it. Comparable to other paid software such as Adobe Acrobat DC, this software is very worth of trying.
Features
1. Supports file converting in multiple formats, including PDF to Word/Excel/PowerPoint/image/TXT/HTML, Word/Excel/PowerPoint/image to PDF, CAD to PDF/image/DWF/DWG, PDF to CAD, DWG to DWF, DWF to DWG, image to JPG/PNG/BMP/icon, Word/PowerPoint/PDF to long picture.
2. This software allows you not only to convert but also to edit PDF files. With this, you can split, or merge PDF files, compress PDF, extract text from PDF, rotate PDF pages, delete pages from PDF, encrypt or decrypt PDF, add watermark on PDF, etc.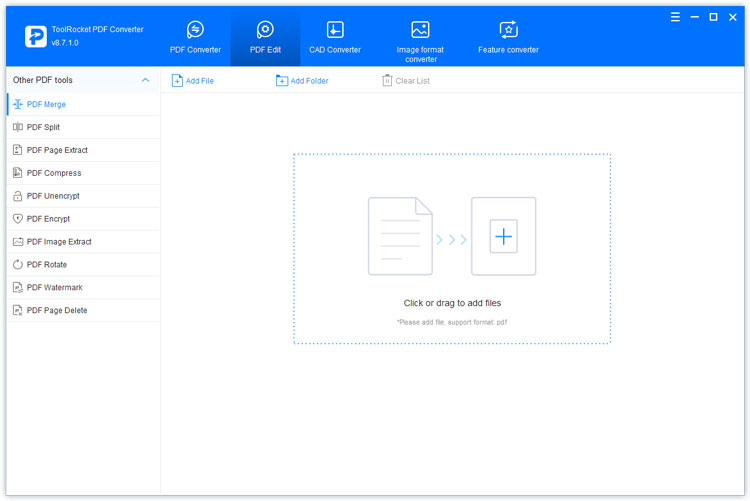 3. In addition, you can also extract text from a picture with the help of the OCR technology, save scanned PDF as Word, compress Word/PowerPoint.
2 Convert PDF to Excel with an online tool
Many people don't want to install any software on their computer. If you don't have too large and too many PDF documents to convert, a free online PDF to Excel converter is also suitable for you. Now let's start to copy tables from to Excel with PDF2everything online converter.
Step 1: Open the web page: https://www.pdf2everything.com/. Go to "File convert" > "PDF to Excel".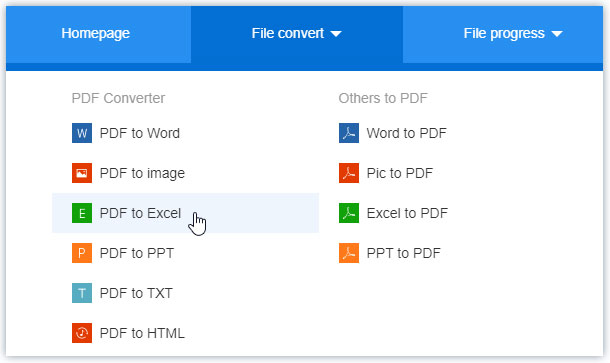 Step 2: Click the blue button "Click to select file" to upload your PDF file.
Step 3: If your PDF document contains multiple pages, you can select the page(s) to convert. Then, you can also set the output format XLSX or XLS, as well as the conversion mode "Speed first", "Edit first", or "Layout first".
Step 4: Finally, click "Start converting", and begin the conversion progress. After that, click on "Download Now" to download the Excel document in your browser to the computer.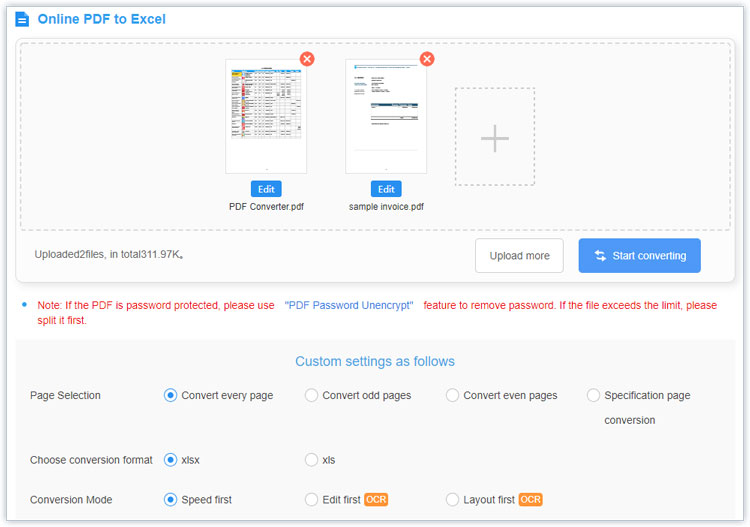 3 Convert PDF to Excel in an app
Without software or online tool, you can turn PDF format to Excel with an PDF to Excel app on your mobile phone. ToolRocket studio provides users a app version of the PDF converter. For more information, you can open it in Google Play or Apple Store. In this part, I will take the iOS version as example and show you the easy steps.
Step 1: Run the app on your phone. Select the function "PDF to Excel".
Step 2: Choose the PDF file from Recent files. It will then automatically converted to Excel format. After that, you can preview the file or share it with others.
Conclusion
In this post, I have introduced different PDF to Excel converter tools. Which one do you want to have a try? In fact, all these applications can help you with PDF file conversion, such as convert PDF to Word, Excel, PowerPoint, JPG, PNG, HTML, TXT, etc. And they also enable you to edit PDF, compress PDF, split or merge PDF, extract images from PDF, encrypt/decrypt PDF and so on.