3 Savvy Ways to Quickly Convert PDF to DOCX
It is considered an enormous activity for some people to create a pdf document, and to convert it into DOCX format is no less than completing a mission. It is quite a luck that with the introduction of handy tools the job is just a piece of cake.
The bright side is that we have the availability of some easy download as well as online software to make the task simpler. The process to convert PDF to DOCX is not difficult at all. This article is an introduction to a marvellous little software that can efficiently handle large numbers of files.
In the upcoming lines, we will describe the three easiest ways for you that how to convert PDF to DOCX formats whether single or multiple files at once.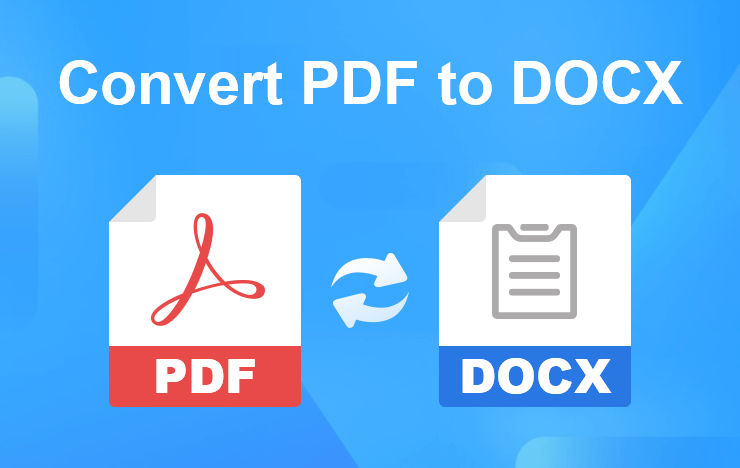 1Convert PDF to DOCX using ToolRocketPDF Converter
Out of many, we hereby present outstanding software, ToolRocket PDF Converter which is free to be downloaded and easier to apply in various formats especially to convert PDF to DOCX format. In addition to conversion, there is also a great facility to compress PDF files as well. It has advanced OCR technology to help you out with text recognition tasks. This software enables you to work with your documents efficiently. All you need to do is to add this tool to your favorite programs' list.
As mentioned earlier, this software is a powerful machine with an intelligent algorithm; it can process multiple files at once. Thus, making the job easier in a less possible time.
It has been observed that more often during the conversion process the heavy graphics and images are not converted to optimum quality. ToolRocket PDF Converter is equipped with the finest and a much steady software core therefore cent percent successful conversion rate is achieved. The conclusive words of praise would be that this software is an all-in-one type thing that can be beneficial for almost all types of documents' conversion.
Quick Steps to convert PDF to DOCX
Here come the convenient steps involved in the conversion process. So let's have a look at them.
Step 1: First and foremost, you have to download this tool.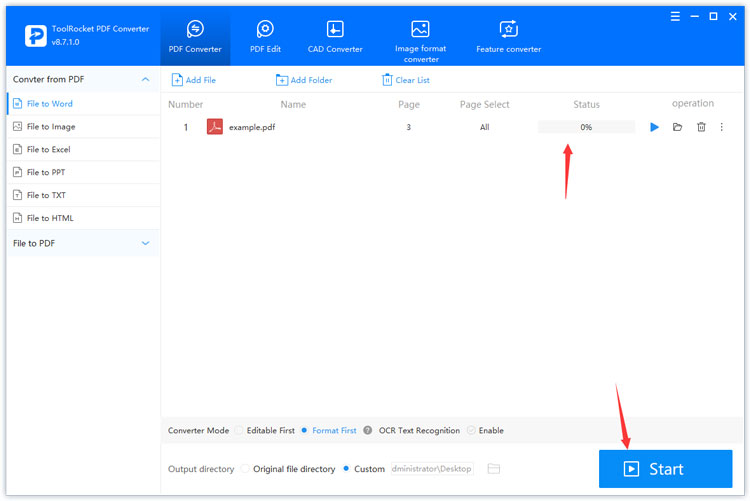 Step 2: Please click on the ToolRocket program's .exe file. You will find this file after the successful completion of the program.
Step 3: You have to choose PDF to DOCX conversion option from the left menu as there is other conversion options present as well.
Step 4: You can simply drag and drop or upload your desired file.
Step 4: On the button right, you will find a blue-colored start button. Press it to begin the conversion process. Once it is done you can reach your desired file from its location.
2Convert PDF to DOCX with PDF2everything
Online solutions are also available for people who do not want to use any specific tool. It is an online free file conversion platform that is also efficient and powerful.
We are introducing here a widely used and easily approached online tool with the name PDF2everthing, having plenty of converting options available.
Quick Steps to convert PDF to DOCX:
Here are some simple steps to be followed to use the online PDF to DOCX converter. You can convert the desired file without any distress.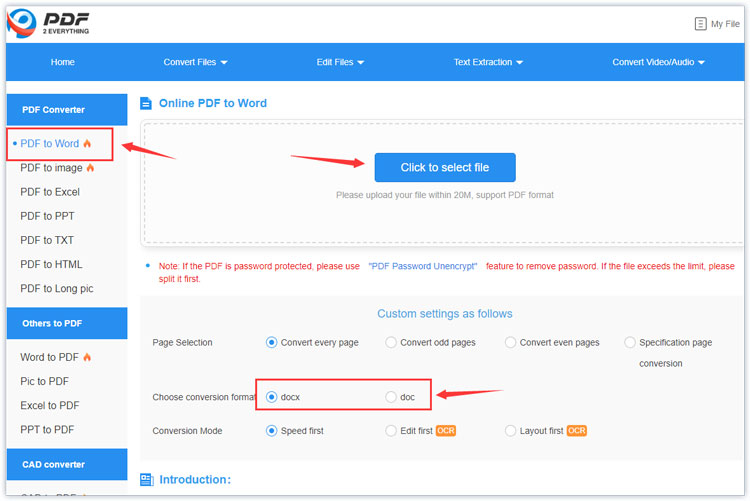 Here are all the steps you need to follow to convert DOCX to PDF online using PDF2everything.
Step 1: Go to PDF2everything's Website.
Step 2: Upon entering the website on the left side panel select PDF to Word, which is the first option at the top of others. A remarkable feature is the customization of parameters which you can do to make some changes during the conversion process. The privilege to preview your documents before finalization of the process is also available.
Preservation of Quality, Plan, and other parameters are the benchmark of this tool.
Step 3: Click on the select file option or simply drag the file. After the uploading of the file, a start button will show up.
Step 4: By clicking the start button you will initiate the process. After a successful ending, you can download the file in ready condition within a few seconds.
3Convert PDF to DOCX on your phone
It is an era of Android and every person is carrying a smartphone in his palm. So instead of sitting in front of your PC, we are bringing a tool that will suffice your need even on your phone. Android users along with Apple customers can benefit from it. People with an iPhone can have this app from App Store; similarly, the downloadable platform for android users is Google Playstore.
Quick Steps to convert PDF to DOCX on your phone:
Like the aforementioned procedures, this one also has some basic and easy steps to be followed,
Step 1: Firstly, go to the below-mentioned links and download the app.
1. iOS user can use this Link to download converter easily.
2. Use this Link to download it from Google Play.
Step 2: Upload the PDF file by tapping the convert into DOCX option
Step 3: Start conversion by tapping the start button.
Step 4: Download and save for future reference.
4Conclusion
In today's world, due to advancements in software and IT Technologies, file conversion is not a big deal. We have present three different ways which are quite easier and simpler to be followed. Just go to your favorite method and do the job done swiftly and efficiently. The solution provided by us is an efficient way to convert PDF to DOCX free.
5FAQ about converting PDF to DOCX
1. Does PDF to Word conversion require Adobe Acrobat?
No, the methods discussed above along with the ToolRocketPdf converter are sufficient to do the task alone.
2. Does PDF-to-Word using ToolRocketPdf converter have a provision of lot conversion?
Yes, it provides the luxury of converting multiple files from PDF to DOCX format all at once.
3. How to uninstall the software ToolRocket Converter?
If you do not need the software or simply want the space to be cleaned up. All you have to do is to go to the control panel, add remove programs and select the ToolRocketPdf converter to be removed.