DWG to PDF: How to Convert DWG to PDF on Windows?
The standard file format of CAD is DWG, and sometimes we convert DWG files into PDF files for easy import into other design software. But when using DWG files, there is a problem that other people cannot access AutoCAD or other CAD software. If you want to view DWG files, you can use ToolRocket PDF Converter to convert DWG files to PDF format for viewing, and you can easily convert any file to PDF, or Create a merged PDF file from multiple DWG files, or create a separate PDF file for each selected DWG file. PDF is ideal for sending high-quality documents to construction customers and engineering professionals. The converter supports batch conversion. PDF documents are a great way to share files across multiple platforms.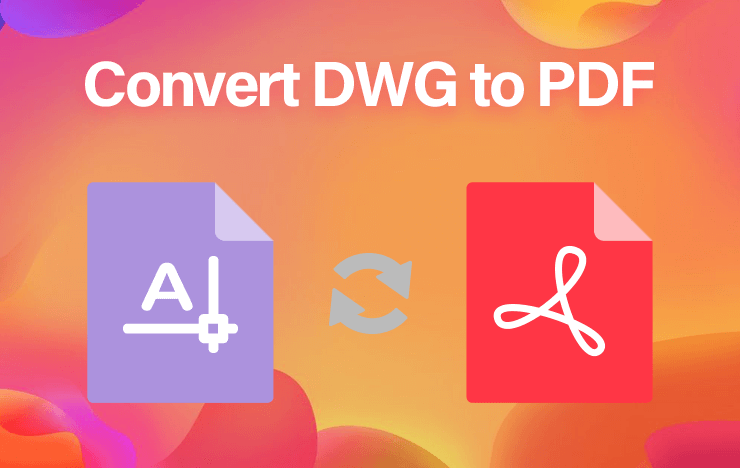 1What is DWG?
DWG is a special file format for CAD software in the computer to save design data, it's a drawing file. The DWG file contains all the information entered by the user in the CAD drawing. And CAD is the most commonly used software in our usual design, especially in the construction industry and machinery industry. .dwg file is one of the most commonly used design data formats and can be found in almost every design environment. Most DWG files are classified as CAD files and can be opened by many software, but cannot be opened by a browser. If you cannot view the DWG file by double-clicking, please try to open it in other programs or convert the DWG file to a PDF file.
2Why convert DWG to PDF?
Today, the drafting process has been greatly simplified through the use of CAD. Engineers and other professionals sometimes need to convert or print drawings in batches. It is difficult to edit DWG files after converting them to PDF. This is why PDF is usually used when submitting drawings for approval or making printed copies. When you receive a DWG file and need to print it, just convert it to PDF and print it.
When you cannot use CAD software (such as AutoCAD) but need to view DWG files, you can use the PDF converter to convert DWG files to PDF files. You can open PDF files easily. PDF maintains the highest image quality of these files to preserve every detail. Everyone can use PDF files to communicate effectively with others. If you only need to view CAD drawings without editing files, it may be more convenient to convert DWG to PDF files.
3How to convert DWG to PDF on Windows?
Step 1: First we start to run the ToolRocket PDF Converter, and then enter its function page.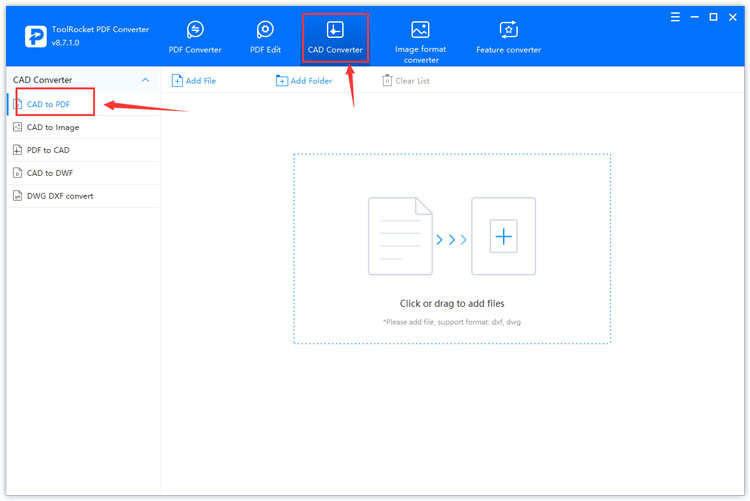 Step 2: Then click "CAD Converter" in the function bar above the software and then click "CAD to PDF" on the left side of the software.
Step 3: We can click "Add File" under the software or drag and drop directly to add the files to be converted to the software.
Note: When the batch conversion is required, you can click "Add Folder" to add multiple files and then perform batch conversion.
Step 4: After the files are added, you can set the output directory. There is the original folder. After you customize the settings, click "Start" under the software.
Step 5: When the conversion status is full, the conversion is successful.
4How to convert DWG to PDF online?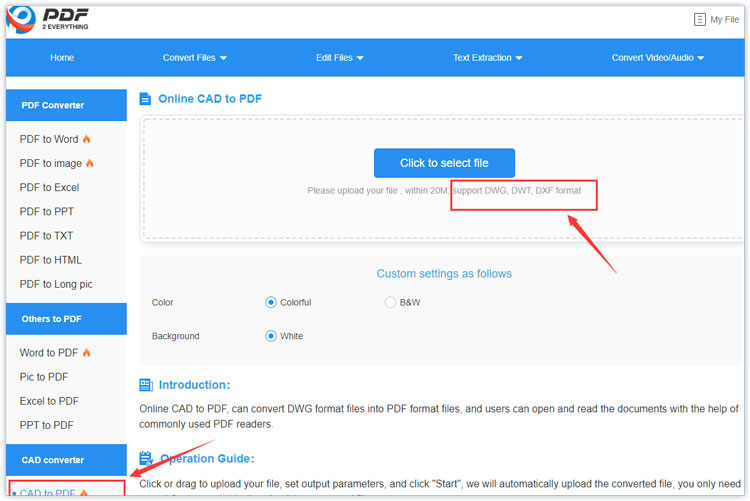 You can use PDF2everything's online CAD to PDF function to convert DWG files into PDF files, and you can open and read the documents with the help of commonly used PDF readers. The steps are simple: just click or drag to upload the DWG file, then click "Start", you only need to wait a moment to download the converted file.
5FAQ about converting DWG to PDF
1. What's the difference between DWG and DXF?
There is a big difference between DWG and DXF files. DWG files can be converted into other formats, while DXF is a format especially used for graphics exchange, which can be opened or imported in many software. Be careful not to confuse DXF and DWG files. DXF and DWG are two common file formats used to exchange information between different CAD and engineering drawing programs. Both DWG and DXF store CAD images, but they allow different types of engineering drawing information. If you only access the drawing through AutoCAD or a program capable of processing DWG files, you should use DWG.
2. How to create PDF from AutoCAD?
The easiest way is to create a DWG file from AutoCAD and then convert it into a PDF file. ToolRocket PDF Converter is the best choice for you.
3. How long does it take to convert DWG to PDF?
The conversion process usually only takes a few seconds. You just need to wait for a while.
4. How do I open a DWG file without AutoCAD?
You can use the DWG to PDF conversion function on ToolRocket PDF Converter. Just find the DWG file and choose to convert to PDF, and you have a PDF file. Another benefit of converting from DWG to PDF is the reduced file size.