Best DOCX to PDF Converters Online and on Windows/Android/iOS
DOCX and PDF are both extremely popular text file types with stark differences between them. A DOCX file is mainly used in Microsoft Office Suite Products, specifically Microsoft Word. Whereas PDFs are a much more commonly used format that can be interpreted by various PDF readers, both free and paid.
However, the significant difference between the two formats is that DOCX files can be edited to the brim, whereas PDFs are always in a read-only format. So, if you want to make sure no one can alter your document, you need to convert them from DOCX to PDF. Here are all the methods you can use for this particular file conversion.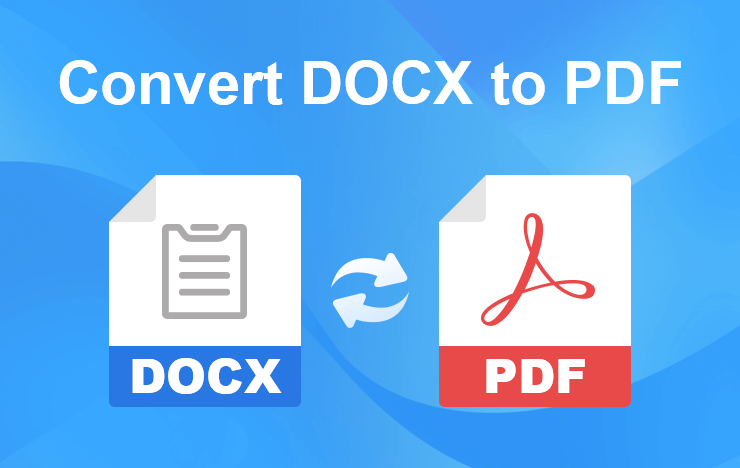 1Convert DOCX to PDF with ToolRocket PDF Converter
If you want to convert your DOCX files to PDF, ToolRocket PDF Converter is perhaps the best out there. The program is completely free and has a very intuitive user-interface that makes it a joy to use in most situations. ToolRocket PDF Converter automatically recognizes text and images and ensures that they are converted from DOCX to PDF in only the highest quality. So, if you want to send an important document as a PDF, your mind will be at peace knowing it is converted at the highest quality with no room for error.
The main advantage of using a DOCX to PDF converter is that you can use set permissions so content in that PDF cannot be altered, changed, edited, or even printed in some cases. So, PDF is ideal for distributing formatted documents and ensures that you have complete control over a document's permissions, unlike a DOCX file, which can be openly edited. Moreover, they are the main file format used for submitting business documents and other legal files.
Here are all the steps you need to follow to convert your DOCX file to PDF without Word using ToolRocket PDF converter.
Step 1: Your first order of business is to download and install ToolRocket's PDF Converter. You can install this program on even a low-spec system running Windows 7 or above. You then need to go to the Word to PDF file.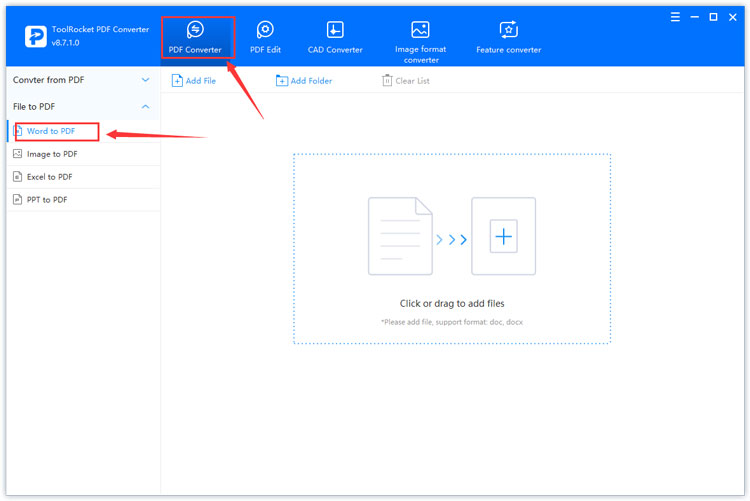 Step 2: Start adding all the documents you want to the DOCX to PDF converter. You can either add all the documents from the File Explorer or drag and drop them. There is no limit to how many files you can add at any certain point.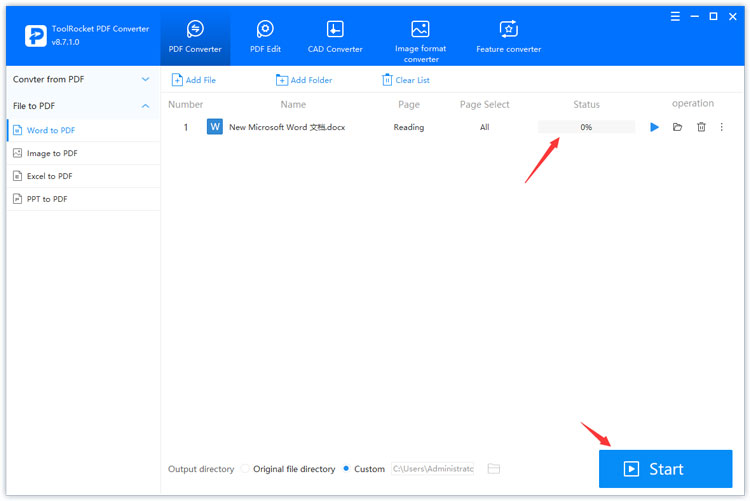 Step 3: You can then specify the output directory alongside the number of pages you want to convert from DOCX to PDF. You can then click on the Start button to convert all the files you dropped in the convertor.
2Convert DOCX to PDF online with PDF2everything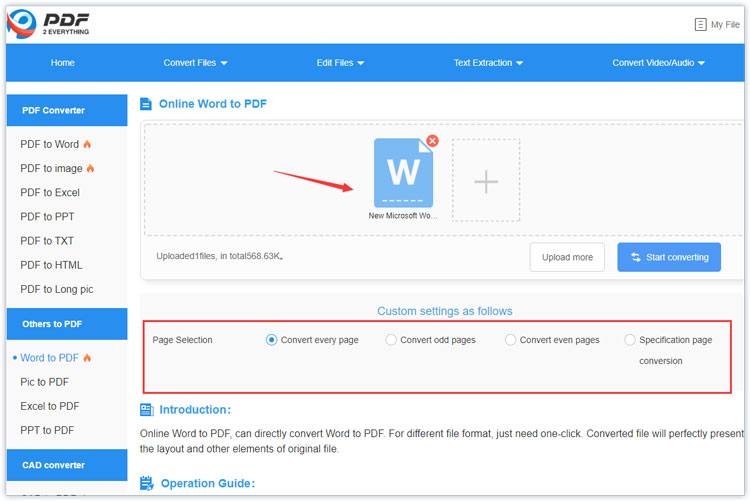 If you are looking for an online DOCX to PDF converter, the obvious choice is PDF2everything. As mentioned prior, you can perform the entire conversion process on your browser with no additional installation required. We do not recommend this website for larger files/batch conversions. However, it can be quite useful to use a mobile phone or do not have the storage space to download an entire program.
Here are all the steps you need to follow to convert DOCX to PDF online using PDF2everything.
Step 1: Go to PDF2everything's Website.
Step 2: You will now notice a blue button that asks you to upload a file or drag-and-drop it. In either case, you have an upload limit of only 20 MBs. So, you cannot make larger batches of files at the same time.
Step 3: After you have looked at all the page settings, you need to click on Start Converting. After the conversion process is done, you can download the PDF directly from the website.
3Convert DOCX to PDF on your Phone
If you want to convert a DOCX file to PDF on your mobile phone constantly, then downloading a mobile application on your iOS or Android device might be the only option.
Here is where you can download a DOCX to PDF converter for both your Android and Apple Device alongside all the steps.
Step 1: Download the application for your particular device: DOCX to PDF converter on Google Play Store and DOCX to PDF converter on iPhone
Step 2: Navigate to the DOCX file you wish to convert or add it from an application like WhatsApp or Facebook Messenger.
Step 3: After selecting the files you wish to convert, tap on Convert and wait for the process to end. You can then navigate to the directory where the new PDF file has been processed or share it to any Instant Messaging platform through the app itself.
4FAQ about converting DOCX to PDF
1. Is DOCX to PDF conversion free?
Depending on the converter you use, DOCX to PDF conversion can be completely free. If you use ToolRocket PDF Converter, you can easily convert thousands of files for free without losing quality whatsoever.
2. How do I convert DOCX files to PDF online?
You can use a website like PDF2everything to convert DOCX files online. The method is extremely simple and completely free. Moreover, it does not require you to download any additional software whatsoever.
3. What is the advantage of converting a DOCX to PDF?
There are significant advantages to converting a DOCX to PDF. Firstly, you get to have complete control over the document. You can make it non-editable and printable, which gives you complete freedom. Moreover, PDF files generally have much higher quality. So, you can expect your images and text to look extremely clear and sharp.
4. How can I open a PDF file after converting it?
A lot more programs support a PDF file as compared to a DOCX file. You can use a Web-Browser like Chrome to open a PDF file for free. Suppose you want more access to the particular file. In that case, you can open it through a dedicated PDF reader like Adobe Acrobat, which allows you to edit permissions, mark, and review the document, amongst other useful features.