Choose the Best Method to Convert CAD to PDF
AutoCAD is a computer-aided software that can help us draw pictures very well. People in industries such as construction engineering, decoration design, hydropower engineering or civil engineering cannot do without CAD drawings. The formats of CAD drawings commonly used by designers are DWG and DXF.
The standard file format of CAD is DWG format. In order to better import other design software, it will be converted to DXF format. Because the drawings drawn by many designers are directly stolen by others, PDF files that can be viewed but not edited have become the preferred format for some CAD designers to transmit to friends. The encryption of PDF files is very good, easy to use, and can save designers time and energy.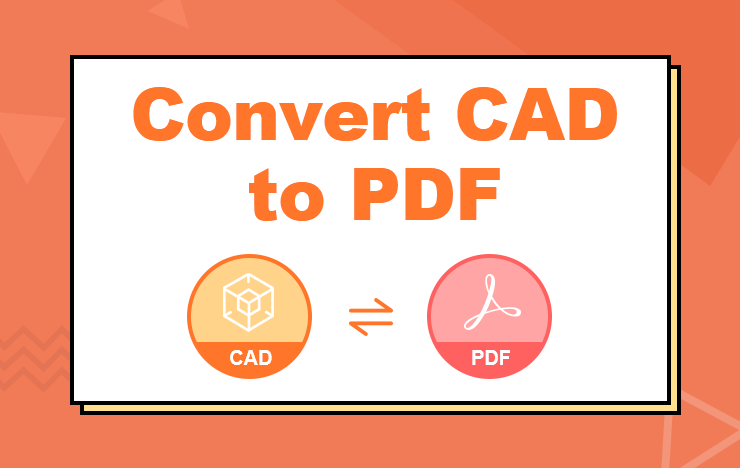 1Why convert CAD to PDF?
Designers often need to convert CAD drawings into other formats for viewing, the most common of which is to convert them into common PDF formats. If the other party's equipment is not equipped with the corresponding CAD software, the CAD drawings cannot be opened. The easiest way is to convert CAD drawings to PDF files so that they can be opened directly regardless of the device. In order to facilitate transmission and reading, it is necessary to convert CAD to PDF.
If you want to convert CAD to PDF, you need to use a powerful PDF Converter to convert. The freeware ToolRocket PDF Converter is your best choice. The software has very powerful functions and can perform batch conversion of common formats such as PDF, PPT, PNG, Word, etc. The operation of the software is also very simple. You don't need to worry about the problem that the CAD drawings you make can not be used directly due to format conversion.
2How to convert CAD to PDF in AutoCAD?
AutoCAD is a software for making CAD design drawings. The latest version of AutoCAD adds the function of outputting PDF. You can directly use this software to convert CAD files into PDF files. All presets except "Minimal File" will retain the original graphics' hyperlinks, layout information, and allow you to overlay/merge overlapping lines. If you want to print the output PDF after conversion, "High-Quality Print" is the best choice.
Operation: Open the CAD file to be converted in AutoCAD, click the icon in the upper left corner to select "Export" – "PDF", and wait for the file to be saved. The conversion of CAD to PDF is completed.
3Convert CAD to PDF without AutoCAD
1. ToolRocket PDF Converter
What if you don't have AutoCAD software installed on your computer and want to convert CAD to PDF? ToolRocket PDF Converter is one of your best choices. ToolRocket PDF Converter not only supports batch conversion of CAD to PDF, but also supports custom settings for Output Color, Background Color, Page Size, and Output Quality.
Step 1: Download ToolRocket PDF Converter on the computer desktop.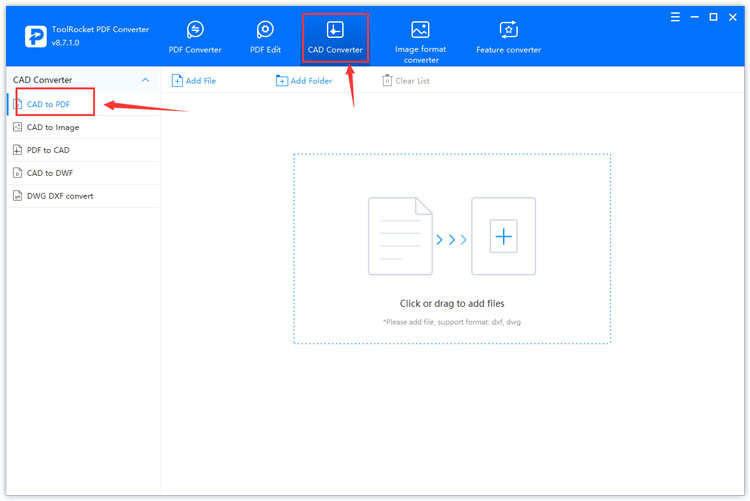 Step 2: Then double-click to open the converter, enter the "CAD Converter" operation interface, and select the "CAD to PDF" function in the conversion function tab on the left. Click the "Add" button in the conversion interface to add the CAD drawings to be converted to the software.
Step 3: Click "Start" to start conversion.
Step 4: When you see 100% in the status bar, it indicates that the conversion process is over. You can choose to preview or download the converted PDF file.
2. PDF2everything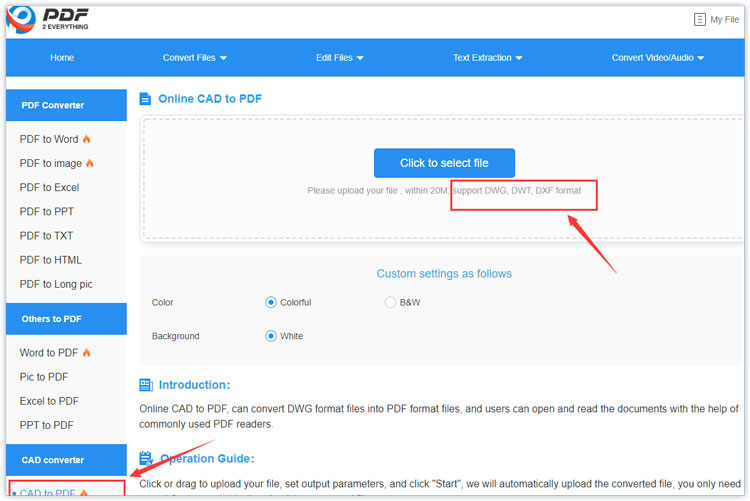 Online CAD to PDF conversion: you can convert CAD files in DWG, DWT, DXF format to PDF format files on PDF2everything, and you can open and read the PDF documents with the help of commonly used PDF readers. You can choose to customize the color and background of the conversion. Just follow the instructions on the website, which is simple, convenient and fast. The file will be deleted automatically after 24 hours, no one can read or download, 100% protect your privacy.
4Conclusion
If you want to print CAD files when AutoCAD is not installed, converting CAD to PDF files is the most convenient operation. You can perform batch operations and get high-quality PDF files. You can also configure a custom plotter with various parameters to obtain high-resolution images. The PDF format can provide high quality without loss of resolution. The reliable PDF Converter can simplify your workflow and make your life easier. The above is the content about how to convert CAD to PDF. If you want to learn more about the wonderful PDF format conversion, please pay attention to ToolRocket PDF Converter.
5FAQ
1. What are the formats of CAD files?
Common CAD file extensions include .dwg, .dxf, .dwf, .dgn and .stl.
2. Can I open DWG files with Adobe?
Users can open their AutoCAD files in Adobe Illustrator.
3. Can I convert CAD files to images?
Yes, of course. ToolRocket PDF Converter supports converting CAD(.dwg, .dxf) files into PNG, TIFF, JPG, BMP and other common image formats.