5 Ways to Convert BMP Images to PDF Files on Different Devices
Not all systems support BMP format, so some people may want to convert their BMP images to PDF files. Sometimes we also need to convert BMP to PDF in our work. And because PDF files are generally accepted, they can be opened on any operating system. Whether you need to send files to Windows or Mac, or Android or iOS phones, PDF files can be opened without changing the format. And because BMP images are generally large, their loading and sending speed will slow down. The PDF files have been compressed and can be more easily loaded, shared, uploaded, sent or stored on the PC or mobile phone.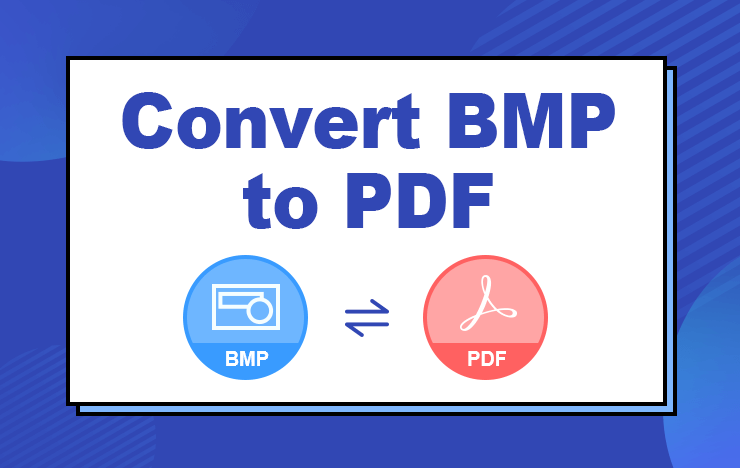 1What is the BMP format?
BMP images are suitable for wallpaper in Windows and are usually used with digital photography. It is a standard image file format in the Windows system and can be supported by a variety of Windows applications. With the popularity of the Windows system and the development of Windows applications, the BMP format is widely used. The feature of this format is that the quality of the saved image remains unchanged and almost no compression, but this leads to its biggest disadvantage: BMP images take up a lot of space.
2Convert BMP to PDF online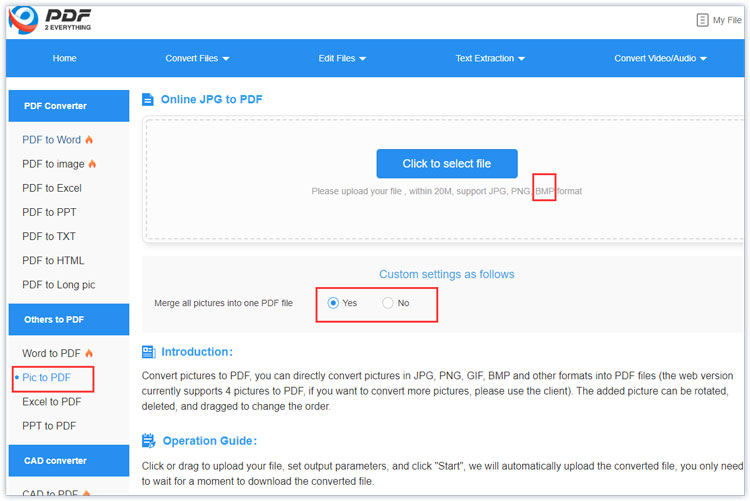 There is no need to download and install, and you can directly operate online. Through the "Pic to PDF" function in PDF2everything, you can upload the BMP image directly after clicking it. After uploading, just click "Start" and it will take a few seconds to complete. You can choose to download the converted PDF file, or you can directly preview it online, and if you want to convert more pictures, you can continue to add them for batch conversion. This online tool allows you to convert BMP to PDF in the most effective way.
3Convert BMP to PDF on Windows
If you think it is not safe to convert BMP to PDF files online, you can also choose to convert on your Computer. There are many methods, the following are conversion methods suitable for different groups of people and budgets.
1. Microsoft Word
As long as you have Microsoft Word or WPS software on your computer, you can insert the BMP image into the Word document and then save it as a PDF file. First, we need to create a new Word document, and then click "Picture" under "Insert" to select the BMP picture to be converted and insert it in Word. We need to typeset these pictures. After organizing, click "Save As" in "File" at the upper left corner of the Word file. In the "Save As" dialog box that appears, select the file type as "PDF File Format". After clicking "Save", the BMP image is converted to PDF file. However, picture compression may occur in this way, and the picture quality may be unsatisfactory.
2. PDFelement
PDFelement is a paid PDF editor and converter. Whether you are on a mobile device or on the Internet, you can download PDFelement to convert BMP images into PDF files in batches. There are Windows, Mac and iOS versions of this software, but the payment for each version is independent. But there will be a free trial period, if you think the price is a bit more expensive, you can try it for a few days before deciding whether to buy it.
3. ToolRocket PDF Converter
As a multifunctional PDF converter for officials and students, in order to provide you with a better user experience, ToolRocket PDF Converter can not only easily convert common Office files, but also edit PDF files efficiently. This software is currently for Windows systems. So how to convert BMP images to PDF files?
Step 1: Download ToolRocket PDF Converter directly to your computer. After downloading, you can directly double-click the installation package to install the PDF converter.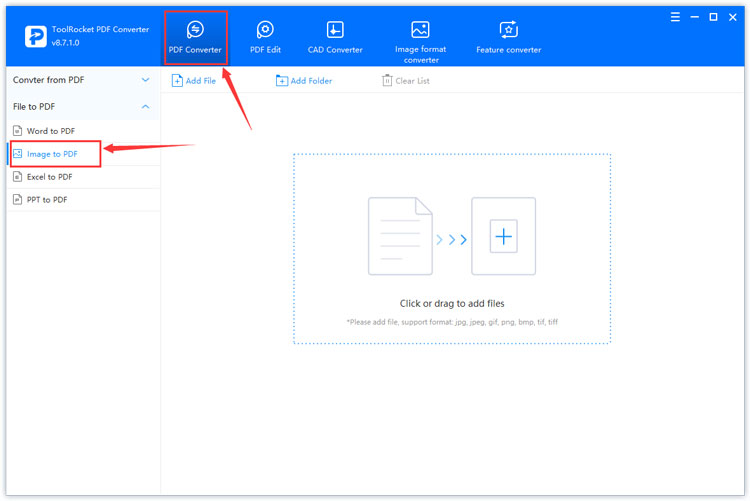 Step 2: Open the installed PDF converter, and after entering the main page, you can see the functions provided by the software. In the scenario where you need to convert a picture into a PDF file, click "File to PDF" to enter and select "Image to PDF" Operation interface.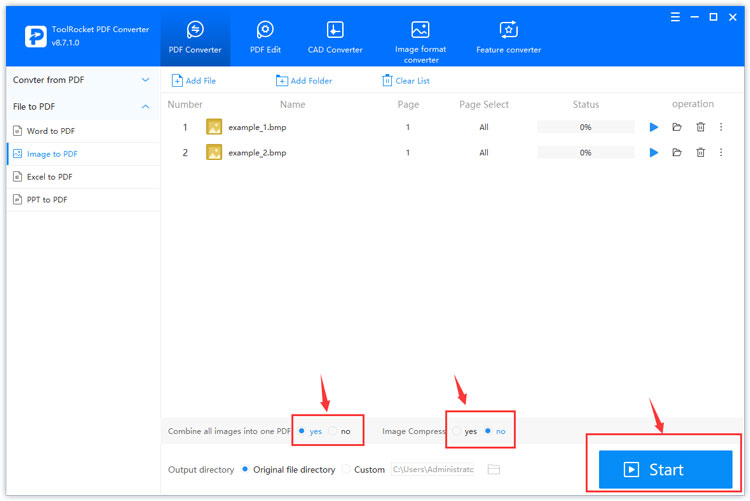 Step 3: Add the BMP image to be converted by clicking or dragging. If there are multiple images, check whether to convert to the same PDF file.
Step 4: After completing the settings, click "Start" directly, and wait for the software to complete the conversion to view the processed PDF file.
4Convert BMP to PDF on your mobile phone
This PDF Converter is a professional PDF file conversion APP. You can convert BMP images to PDF files on Android phones/iPhone/iPad, which is time-saving and efficient. After opening the APP, you first select the BMP image you want to convert, and you can easily and comfortably convert it into a PDF file with just one click. You can install the PDF Converter APP on your mobile phone anytime, anywhere, and convert BMP images or other format file.
5Other conversion functions of ToolRocket PDF Converter
Why choose ToolRocket PDF Converter? Because of the high success rate of files converted through it, the functions are also very comprehensive; ToolRocket PDF Converter integrates various file format conversions, image extraction, watermarking, splitting, PDF file merging, compression, encryption and other functions, which can provide one-stop PDF file processing, only one software can fully meet your daily needs.